Let's Talk about migration and immigration experiences.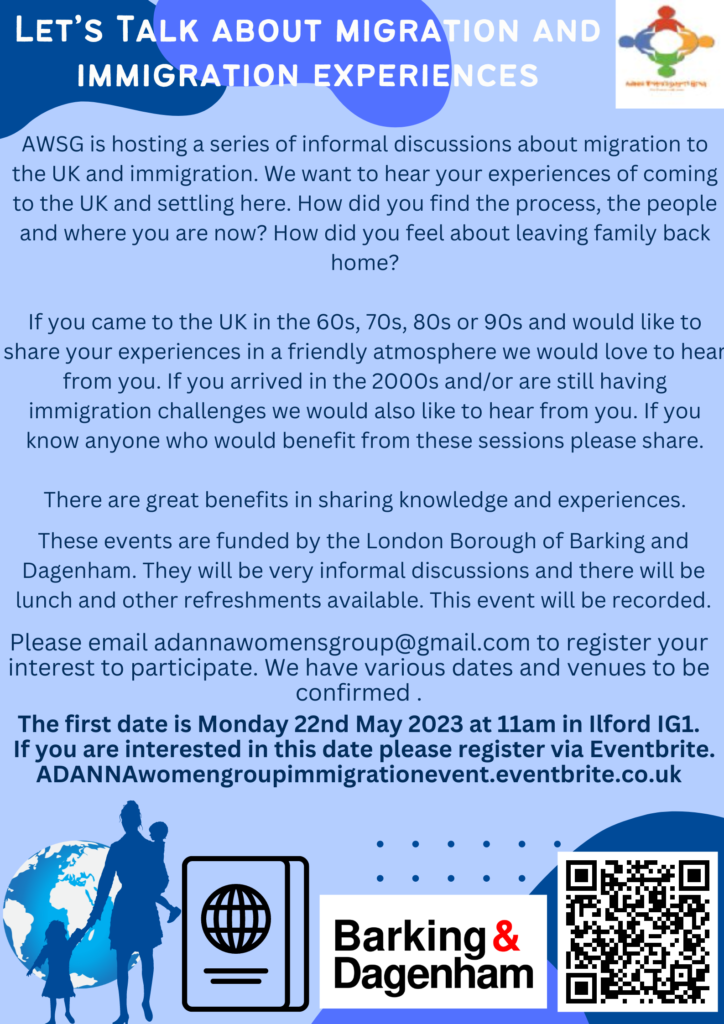 AWSG is hosting a series of informal discussions about migration to the UK and immigration. We want to hear your experiences of coming to the UK and settling here. How did you find the process, the people and where you are now? How did you feel about leaving family back home?
If you came to the UK in the 60s, 70s, 80s or 90s and would like to share your experiences in a friendly atmosphere we would love to hear from you. If you arrived in the 2000s and/or are still having immigration challenges we would also like to hear from you. If you know anyone who would benefit from these sessions please share.
There are great benefits in sharing knowledge and experiences. Please share out the details to your parents, grand parents or great grandparents.
These events are funded by the London Borough of Barking and Dagenham. They will be very informal discussions and there will be lunch and other refreshments available. This event will be recorded.
Please email [email protected] to register your interest to participate. We have various dates and venues to be confirmed .
The first date is Monday 22nd May 2023 at 11am in Ilford IG1. the second date is 26th May 2923  If you are interested in these dates please register via Eventbrite.