Welcome to our events page . We run a number of activities throughout the year and you can see what's happening and book onto an event from this page. We also have a list of events of other organisation which we feel would be good to attend or which we will be attending.
APRIL 2021- Mental and Physical abuse in BAME community– Causes and Cure.
The pandemic has shone a light on the increasing numbers of physical and mental abuse that are present. Although physical and mental abuse is a prominent issue within many communities, it is prevailing issue that has an impact on ethnic minority women, with less focus and research being done to see how to help women from these specific minority groups.
In Redbridge the level of domestic violence has increased by 453 cases in June 2020 compared to the 332 in April 2020, similarly, Barking and Dagenham has the highest prevalence rates of domestic violence abuse with a 23 per 1000 population reporting the abuse to the police.
Join us on 1st of May 2021 on a discussion on the experience of Mental and Physical abuse within the BAME communities and how to spots signs and symptoms of abuse.
Date: 1st May 2021
Time: 10:30 am – 12:30pm
Location: Zoom
Register via this link: https://forms.gle/TdKsjZ5bdrQeXaS1A
OCTOBER
This Black History Month join us via Zoom for TWO amazing FREE Talks – we have created safe space to delve into the issues that affect us as BAME women and girls.
Women's talk – Restart a new life post lockdown 
Date: Saturday 24th October
Time: 10am -12noon
We will be discussing the impact of COVID on our lives as we know it.
The COVID pandemic has changed the world forever. But how has it changed you?
Register here: https://forms.gle/LUvkYP299WGj3K5z8
Join our meeting on Zoom:  https://us02web.zoom.us/join
Meeting ID: 852 1190 0875 (passcode will be sent upon registration for security reasons)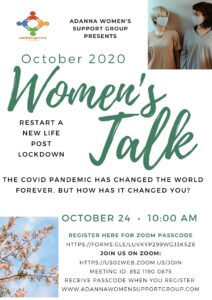 Girls talk – How to become an influencer
Date: Friday 30th October
Time: 4-5 pm
As part of Redbridge Council and Barking and Dagenham Council's Black History Month programme of events we will be running an online webinar about how Black girls are portrayed in social media, how to find positive role models online and how to become a positive influencer to others via social media.
Social media is an essential part of a young girls life. We will be discussing the impact of social media on young girls and how you can become a positive influencer.
Register here: https://forms.gle/txnAti2FgFvYoXxK9
Join us on zoom for a lively discussion
https://us02web.zoom.us/j/88477449717?pwd=TldLc2QyWThtdVQ4QzF5S3BCK1g2QT09
Meeting ID: 884 7744 9717 (Passcode will be sent upon registration for security reasons)