Adanna Women's Support Group Youth summer mentoring programme.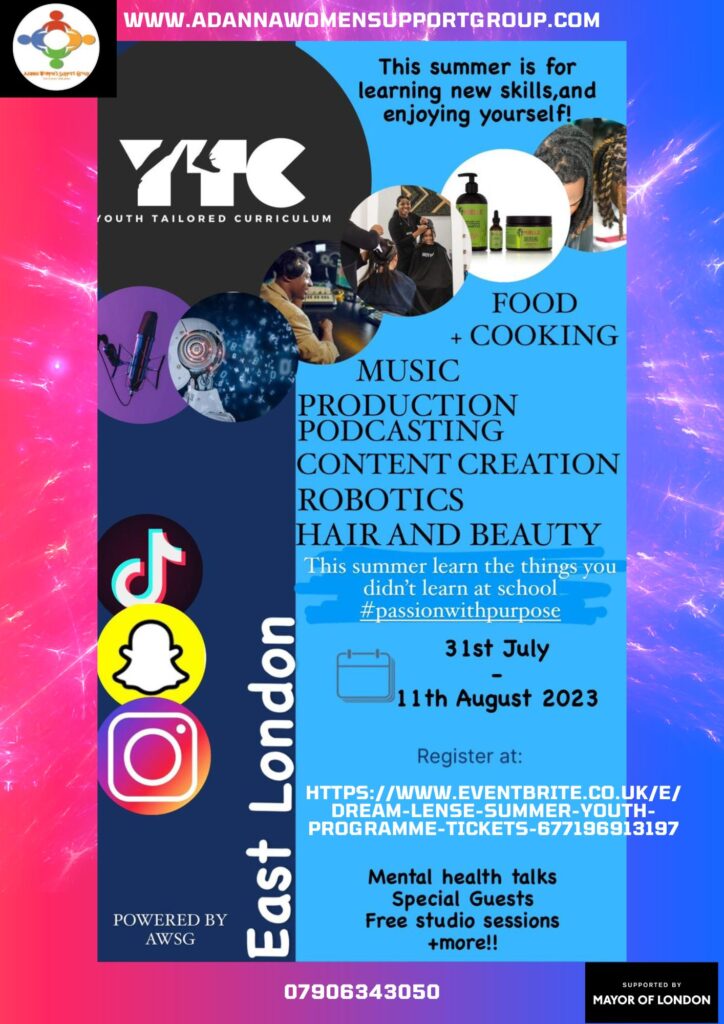 ADANNA Women's support Group (AWSG) is a non-profit organisation situated in East London (Redbridge, covering Barking & Dagenham and Newham). Our aim is to empower women and girls by helping build their self-confidence. We do so by helping them overcome any issues they may be facing such as relationship issues, domestic violence, debt, unemployment, loneliness and isolation, challenges bringing up their children, etc. 
We are excited to announce the return of our Summer youth mentoring programme see below for more details.
Adanna Women's Support Group Youth summer mentoring programme is back in 2023.
The Youth programme is called Youth Tailored Curriculum (YTC) because the topics we cover in this summer programme is designed and tailored by and for the youth.
This season our Dream lense productions will be covering workshops on podcasting, music production, Hair and beauty, robotics, dance and much more. We will also have sessions on mental health, confidence building and building healthy relationships. This year we will be taking children from year 6 to Year 13.
From 31st July to 11th August in Ilford.
Please register your young person by clicking the link below on Eventbrite. you can also search on Eventbrite for 'ADANNA WOMEN'S SUPPORT GROUP' and the programme will come up.
places are FREE but on a first come first served basis.
Joining Link: https://www.eventbrite.co.uk/e/dream-lense-summer-youth-programme-tickets-677196913197